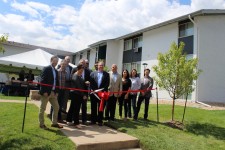 Apartments Communities Newly Modernized by The Michaels Organization, Element Properties, and Allison Management are Preserved as Three Key Affordable Housing Resources in the City of Boulder
BOULDER, Colo., August 17, 2017 (Newswire.com) - City officials, community leaders, and residents today joined executives of The Michaels Organization, Element Properties, and Allison Management to celebrate the grand re-opening of three apartment communities that have been rehabilitated and preserved as affordable housing for families in Boulder households with low- and moderate- incomes.
"The creation of the Nest Properties has been a tremendous opportunity to work with private partners to implement a key city strategy of preserving existing housing into permanent affordable housing. It's a real win for our community," said Kurt Firnhaber, Deputy Director of Housing for the City of Boulder.
It's been a privilege to work with a city so committed to providing high quality, sustainable affordable housing.

Gary Buechler, President, Michaels Development
Known collectively as "The Nest Communities," The Nest on Osage, The Nest on Thunderbird, and The Nest on 30th, have been completely modernized inside and out, with beautifully updated kitchens and bathrooms, new flooring, and new energy-efficient building systems. Fresh upgrades to the exteriors provide great outdoor space for residents to savor breathtaking views of the Flatirons.
The ceremonial ribbon-cutting was held at The Nest on Osage.
The redevelopment of the 150-unit Nest on Osage and the 52-unit Nest on Thunderbird in South Boulder and the Nest on 30th, which has 36 units, in Central Boulder was led by the private development team of The Michaels Organization, Element Properties, and Allison Management, with significant support from the City of Boulder.
All three communities are in desirable neighborhoods and near public transportation, shopping, and employment opportunities. The properties include studios, one-, two-, and three-bedroom apartments, making them attractive to both families and individual households.
The Nest Communities have been important housing resources in Boulder for many years, but the acquisition by Michaels, Element, and Allison ensured that the properties are preserved for long-term affordability in an area where rents are growing rapidly. Apartments are available to families and individuals earning 60 percent or less than the Area Median Income.
"It's been a privilege to work with a city so committed to providing high quality, sustainable affordable housing, and we look forward to being a part of this community for years to come," said Gary Buechler, President of The Michaels Development Company. The Nest Communities represents the first development in the state of Colorado for The Michaels Organization, the nation's number one private-sector affordable housing owner.
The City of Boulder contributed $10.75 million to the acquisition of all three properties. Additional financing included $20.4 million in private equity raised through the sale of federal Low Income Housing Tax Credits. The tax credits were bought by US Bancorp Community Development Corporation, a division of U.S. Bank. Together, Google and Red Stone Tax Exempt Funding invested $41.7 million in construction and permanent mortgage capital by purchasing state issued tax-exempt bonds.
Google employs several hundred employees at its Boulder offices, and is well-known for investing in high-quality affordable housing developments across the country.
"The preservation of low and moderate income housing is increasingly urgent in Boulder and in similar communities across the country," said Kevin Knapp, Element Properties Principal of Community Development. "The Nest Communities has been an innovative public partnership that's been successful in ensuring that 238 homes will remain affordable for many future generations of Boulder residents. The City of Boulder deserves a lot of credit for their understanding of the issue and their support in ensuring that the Nest Communities remain affordable in perpetuity."
Boulder-based Coburn Design served as the architect, and Lakewood-based Pinkard Construction served as the Construction Manager/General Contractor. Both partners worked hard to create great space for residents.
More than $45,000 of improvements has been made to each unit. All three communities are being managed by The Michaels Organization's Interstate Realty Management Company, which will ensure that the communities remain quality neighborhood assets for the long-term.
All three Nest Communities are fully occupied.
About The Michaels Organization
The Michaels Organization, a family of independent companies dedicated to excellence in affordable, mixed-income, military, and student housing, is a national leader in residential real estate. Serving 145,000 residents in 380 communities across 35 states, D.C. and the U.S. Virgin Islands, The Michaels Organization offers full-service capabilities in development, property and asset management, construction, mortgage finance and tax credit syndication.
About Element Properties
Element Properties is one of the most respected real estate development companies in Boulder County and the Front Range region, with a focus on infill housing, affordable housing, and mixed-use places of exceptional value. Grounded in a healthy respect for how the built environment can impact people, their quality of life and surrounding community, Element Properties is committed to a mindful development approach that balances financial and social entrepreneurship.
About Allison Management
Formed in 2002, Allison Management is owned by Andy Allison. Mr. Allison has worked in the development and construction industry for over 25 years. Allison Management is focused on providing affordable housing options in Boulder. To date, Allison has developed over 200 affordable units.
Source: The Michaels Organization
Share: