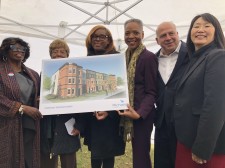 Phase 2 of Major Redevelopment in City's Central Ward will offer families high quality, modern affordable apartments near employment, schools, and transportation.
NEWARK, N.J., November 7, 2019 (Newswire.com) - ​​​With shovels in hand and wearing hardhats, today Mayor Ras J. Baraka, and Newark council members joined residents of the Central Ward community to celebrate a groundbreaking for Somerset Brownstones, a $19 million affordable housing community being developed by The Michaels Organization and its nonprofit partner, Better Tomorrows.
"Somerset Brownstones is another giant step forward in the comeback of a neighborhood that for years was redlined and denied needed development and upkeep. It is also a milestone in our equitable growth strategy to create more affordable housing for Newark residents throughout the city," said Mayor Baraka.
The second phase of a major redevelopment, the new community for families will bring 60 modern affordable apartments, as well as significant new green space, to the former site of Douglass Harrison Homes, a deteriorated public housing complex that was demolished years ago.
Located on Spruce Street next to Harrison Park Square, an affordable apartment community for seniors, Somerset Brownstones is bounded on the East side By Douglas Park, a city-owned park built by Michaels. Another park will be created by Michaels as part of this development phrase, on 3.9-acres of land adjacent to Harrison Park Square.
"It has been Michaels' privilege to partner with the city to invest in the Central Ward's revitalization and to provide critically needed affordable housing, while honoring the community's desire to have abundant green space," said John J. O'Donnell, Chief Executive Officer of The Michaels Organization.
When complete, Somerset Brownstones will comprise four, 3-story buildings, each containing 15 apartments. Each apartment will be Energy-Star certified and come fully-equipped with central air conditioning, gas heat, dishwashers, and washer/dryer hookups. The community will offer 40 two-bedroom units and 20 three-bedroom units.
Somerset Brownstones will serve families earning below 60% of the Area's Median Income (AMI), with half of the apartments reserved for very low-income households. Additionally, 15 units will be reserved as permanent housing for the homeless, with priority given to homeless veterans.
"Somerset Brownstones represents the result of collaboration at its best. It is the product of The Michaels Organization, the City of Newark, the State of New Jersey, neighborhood community activists, HUD, Sterling National Bank and Better Tomorrows all working together to participate in the revitalization of the Central Ward," said Allison Ladd, Director of Newark's Department of Housing and Economic Development.
Other dignitaries who attended the ceremonial groundbreaking included City Council President Mildred Crump and Councilwoman LaMonica McIver, both of whom provided critical support to the success of the project moving forward.
Financing for Somerset Brownstones includes $11.3 million in private equity raised through the sale of federal Low Income Housing Tax Credits allocated by the New Jersey Housing and Mortgage Finance Agency, and $500,000 in HOME Funds from the City of Newark. Sterling National Bank invested in the tax credits. Berkadia syndicated the credits and also provided $6.2 million in permanent mortgage financing.
Michaels Management will serve as the property manager, ensuring that Somerset Brownstones remains a quality community asset for years to come. Supportive services will be provided Better Tomorrows. Other partners on this phase include Claremont Construction of Fair Hills, NJ, which is the General Contractor and KNTM Architects, of East Orange, NJ.
About The Michaels Organization: The Michaels Organization is a national leader in residential real estate offering full-service capabilities in development, property management, finance and construction. Michaels brings comprehensive solutions to communities that jump-start housing, education, civic engagement and community prosperity, and is committed to creating communities that lift lives.​
Source: The Michaels Organization
Share: