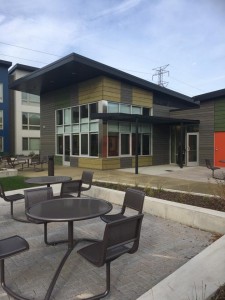 Innovative Mixed-Income Apartment Community Developed by Brinshore-Michaels in Partnership With the Chicago Housing Authority Opens on Former Site of Maplewood Court on the Near West Side
Chicago, Illinois, June 27, 2017 (Newswire.com) - Brinshore-Michaels, a private-sector development partner of the Chicago Housing Authority, today hosted an official grand opening ceremony for City Gardens, a new mixed-income rental community with abundant green features located on the former site of the Maplewood Court public housing complex on the city's near West Side.
Alderman Walter Burnett, Jr., City of Chicago Department of Planning and Development Commissioner David Reifman, and Chicago Housing Authority CEO Eugene Jones, Jr. were among the dignitaries who attended the celebration, along with residents and executives of Brinshore-Michaels.
"We are proud of our partnership with CHA and Brinshore to bring affordable housing to families with a variety of incomes in this beautiful and unique community and to offer services that will enrich the lives of the residents."

Gary Buechler, President, Michaels Development Company
"The community welcomes City Garden Apartments to the 27th Ward!" said Alderman Burnett. "The design of City Garden Apartments brings a modern, vibrant energy to the neighborhood. Additionally, this development will benefit former CHA residents wishing to relocate to the community formerly known as Maplewood Court."
City Gardens offers 76 market rate, affordable and CHA apartments in seven, three-story buildings in a mix of one, two, three, and four-bedrooms. Each unit features Energy Star-rated appliances, private outdoor space, central air conditioning, carpeting, and ceramic tile. Amenities include an on-site management office, a community gardening area, a recycling center, a business center, and a courtyard of open green space adorned with picnic areas.
"City Gardens is a forward-thinking, mixed-income green development with quality construction and amenities that will serve the community well," said CHA CEO Eugene Jones, Jr. "This represents the sort of partnerships that have enabled CHA to have investment in housing across the city. Today, we have investment in 75 of Chicago's 77 community areas. That's progress of which we can all be proud."
The architectural firm Landon Bone Baker designed City Gardens as a sustainable community with environmentally-friendly features such as bioswales between the buildings to remove pollution from water run-off, a solar trellis, and a composting zone. The project exceeds the City of Chicago's Green Housing Initiative requirements. The buildings face toward the streets, connecting the community to the wider neighborhood, while the large internal courtyard fosters a sense of community within City Gardens. A new private fire lane that runs through the site doubles as a public plaza.
Chicago's Near West Side has been in the midst of much new development, and City Gardens is located in close proximity employment centers and to public transportation. Already at full occupancy, City Gardens offers a mix of affordable and market-rate units as well as public housing units.
"City Gardens continues the steady march of revitalization on Chicago's Near West Side with quality mixed-income housing in a serene park-like setting," said Richard Sciortino, President of Brinshore Development, LLC.
City Gardens is managed by Interstate Realty Management (IRM), which will ensure the property remains a valued community asset for years to come. In addition, IRM, in coordination with local organizations, will offer City Garden residents supportive services with an emphasis on youth-related activities, community integration and safety, economic and educational proficiency, and health and wellness.
"We are proud of our partnership with CHA and Brinshore to bring affordable housing to families with a variety of incomes in this beautiful and unique community and to offer services that will enrich the lives of the residents," said Gary Buechler, President of Michaels Development Company.
Funding for City Gardens includes $17 million in private equity generated through the sale of federal Low Income Housing Tax Credits allocated by the City of Chicago. In addition, the City of Chicago contributed over $3 million in TIF funding, while the Chicago Housing Authority contributed over $7 million. Bank of America provided construction and bridge financing of $13.5 million. Chicago LISC issued the development's permanent loan of just over $1 million.
Brinshore-Michaels is a partnership of Michaels Development Company, a national leader in affordable housing based in Chicago, and Brinshore Development LLC., which is based in Chicago and has created award-winning affordable housing throughout the Midwest. In partnership with CHA for more than a decade, Brinshore-Michaels have created over 2,000 units of mixed-income housing.
About Brinshore-Michaels:
Brinshore-Michaels is a partnership between Brinshore Development LLC and The Michaels Development Co. Brinshore is an innovative real estate company specializing in the development of residential communities that foster conservation, collaboration and affordability. Brinshore has undertaken dozens of developments, from large-scale master-planned communities to the restoration of meticulously preserved historic properties. The Brinshore portfolio today encompasses more than 4,000 residential units valued at more than $1 billion. Michaels Development Company is an independent operating company of The Michaels Organization, a family of companies dedicated to excellence in affordable, mixed-finance, military and student housing. Serving 135,000 residents in 370 communities across 35 states, D.C., and the U.S. Virgin Islands, The Michaels Organization offers full-service capability in development, property management, construction, finance, and tax credit syndication.
About Chicago Housing Authority
The Chicago Housing Authority (CHA) helps build vibrant communities across the city. By using housing as a platform, the agency works with a host of key stakeholders to sustain strong neighborhoods to best prepare CHA residents for the global economy on their road toward self-sufficiency. CHA also provides stable, decent, safe and affordable housing to more than 62,000 low-income families and individuals, while supporting healthy communities in neighborhoods throughout Chicago.
Source: Michaels Development Company
Share: