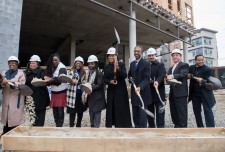 Mission-driven grocer will occupy retail space in new affordable housing community being developed by The Michaels Organization and CityInterests in the District's Ward 8
WASHINGTON, January 4, 2019 (Newswire.com) - DC Mayor Muriel Bowser yesterday broke ground on Good Food Markets, a fresh food grocer that will occupy prime retail space in South Capitol Apartments, an innovative affordable housing community that The Michaels Organization and CityInterests are developing in the Bellevue community of the District's Ward 8.
An $880,000 grant made possible by the city's Neighborhood Prosperity Fund, an initiative launched by Mayor Bowser, supported the build-out for a grocery store as part of the 225,000 square-foot development that includes 195 affordable apartments and 5,500 square-feet of community space.
"I'm excited that my second term as Mayor of Washington, DC is getting started the right way: by breaking ground on a much-needed new grocery store in Ward 8, increasing access to healthy food options east of the river and creating jobs for local residents," said Mayor Bowser. "This project represents what we're going to be focused on over these next four years – tackling the day-to-day challenges that residents face and, in doing so, improving the quality of life for more Washingtonians, while continuing to plan for our future and the growth of our city."
Good Food Markets is a mission-driven community grocery redefining what is possible in food deserts. Their experienced retail team creates a full-service grocery selection in a fraction of the space, while also paying a living wage and offering educational opportunities in the community.
The Neighborhood Prosperity Fund, administered by the Office of the Deputy Mayor for Planning and Economic Development (DMPED), supports mixed-use, real estate, or retail development projects in targeted census tracts where unemployment is at 10 percent or higher. The grants provide necessary gap funding for the commercial component of development projects and will help create job opportunities and new food options in Wards 7 and 8.
"We remain thoughtful in our efforts to drive economic growth in our under-served communities by investing in development that will create jobs and affordable housing for DC residents," said Deputy Mayor Brian Kenner. "The Neighborhood Prosperity Fund is another tool to help us ensure we continue to provide our residents with the amenities they deserve."
The joint development venture between CityInterests and Michaels Development is in the final development in an overall master plan that also includes a primary care clinic, an office building leased to the DC Department of Human Services, and a 172-space parking garage.
"We are grateful for the opportunity to help transform the Mayor's vision for this neighborhood into reality," said Nicholas Bracco, regional vice president for Michaels Development. "This is a true community space operated by and for DC residents, located in high quality, affordable housing."
About The Michaels Organization: The Michaels Organization is a national leader in residential real estate offering full-service capabilities in development, property management, finance and construction. Serving more than 140,000 residents in 400 properties across 35 states, Michaels brings comprehensive solutions to communities that jump-start housing, education, civic engagement and community prosperity, and is committed to creating communities that lift lives.
Source: The Michaels Organization
Share: