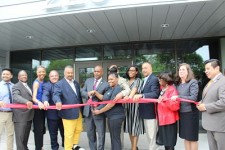 Newark, May 29, 2019 (Newswire.com) - ​Executives from The Michaels Organization, Newark Housing Authority (NHA), and elected officials, including Mayor Baraka and Congressman Donald Payne, gathered with residents today to celebrate the grand opening of the newly-developed affordable housing community, Boulevard West.
The grand opening featured a ribbon-cutting and marks the completion of a critically-needed affordable housing resource for families in the Springfield/Belmont area of Newark. Located on the former site of New Horizons public housing, Boulevard West offers 89 rental apartment homes in a five-story mixed-use, mid-rise building at the intersection of Irvine Turner Boulevard and Muhammad Ali Avenue, two of the city's most prominent thoroughfares. The new community is conveniently located near public transportation, as well as numerous schools, parks, and retail opportunities. Boulevard West is Newark's latest answer to the growing demand for high-quality affordable housing.
"We are here for the people, who all deserve to live a high-quality life." said Congressman Donald Payne, Representative of New Jersey's 10th District. "Everyone needs a home and it's so important to make sure that our residents have quality housing. I must thank the Housing Authority, The Michaels Organization, and everyone involved in this incredible project."
Boulevard West apartments were designed to be energy-efficient and are specifically affordable to households earning less than 60 percent of the Area's Median Income, including public housing residents. The building is comprised of a mix of floorplans in one-, two- and three-bedrooms. Amenities include a community room for residents and 5,000 square feet of commercial space.
"This is what it's all about." said Chief of Administration for NJHMFA Donna Rendeiro. "It's important to develop the downtown, but it's the neighborhoods that create the vibrancy. We cannot forget the neighborhoods."
Speakers at today's event included: Mayor Ras Baraka, Congressman Donald M. Payne Jr. of New Jersey's 10th district, The Michaels Organization Vice President Gin Dawson, NHA Executive Director Victor Cirilo, Reverend Dr. David Jefferson, Sr., NHA Chairman Board of Commissioner Eddie Osborne, Councilwoman La Monica McIver, Cesar Garcia, a representative for the HUD NJ Director of Public Housing, City Council President Mildred Crump, and Chief of Administration for NJHMFA Donna Rendeiro.
NHA Executive Director Victor Cirilo said "What a pleasure it is to be a part of this city and that we have elected officials that really care about the constituents that we represent. Our job is to provide a roof over families' heads and we can't do it without this partnership."
"At Michaels, we've found that it's not just about sticks and bricks. It's about people and lifting the lives of those people." said Gin Dawson, Vice President of The Michaels Organization. "It's great to be a part of this and to be a part of the wonderful partnerships we've formed in Newark."
The Boulevard West development includes funding from The Affordable Housing Program, offered by banks in the Federal Home Loan system that were created to advance housing opportunity and local community development. Additional funding includes private equity generated from the sale of Low Income Housing Tax Credits, as well as capital funding from the Housing Authority of the City of Newark, tax exempt construction and permanent financing issued by the New Jersey Housing and Mortgage Finance agency and provided by Citibank, NA and equity generated through the sale of ERG state credits as administered by the NJ Economic Development Authority. TD Bank, NA is the ultimate purchaser of the low-income housing tax credits and the state ERG credits. Riverside Capital syndicated the tax credits.
Michaels Management (previously known as Interstate Realty Management), an independently operated company of The Michaels Organization, will serve as the property manager, ensuring that Boulevard West remains a quality community asset for years to come.
About The Michaels Organization: The Michaels Organization is a national leader in residential real estate offering full-service capabilities in development, property management, finance and construction. Michaels brings comprehensive solutions to communities that jump-start housing, education, civic engagement and community prosperity, and is committed to creating communities that lift lives.
Source: The Michaels Organization
Share: