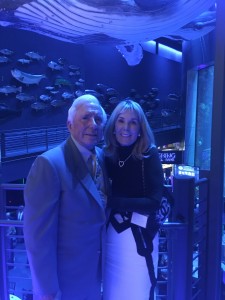 Founder of The Michaels Organization is also a 2012 Inductee into the Affordable Housing Hall of Fame
SPRINGFIELD, Mo., October 30, 2017 (Newswire.com) - Michael J. Levitt, the visionary housing leader who founded one of the nation's leading residential real estate organizations and who in 2012 was inducted into the Affordable Housing Hall of Fame, has been inducted into the International Game Fishing Association Hall of Fame for his achievements in sports fishing and conservation.
"It's really wonderful to be recognized for achievements first in my profession and now for my avocation," said Michael J. Levitt, after receiving the honor at a gala celebration at the new World of Wildlife National Museum & Aquarium in Springfield, Missouri, where the Hall of Fame ceremony was held Oct. 28.
Michael's accomplishments in the housing industry are legendary; this honor recognizes his achievements as a great sportsman and conservationist.

John J. O'Donnell, President, The Michaels Organization
The IGFA is a not-for-profit organization committed to the conservation of game fish and the promotion of responsible and ethical angling practices through science, education, rule-making, and record-keeping. The 2017 induction ceremony welcomed five new members including Mike Levitt into the IGFA Hall of Fame, an elite group of only 115 anglers to be recognized with this unique honor.
Mike Levitt began light tackle fishing in the 1960s and holds 16 world records; his 12 and 16 lb. line class records for black marlin and 4, 8, and 12 lb. line class records for white marlin still stand.
A former Chairman of the IGFA, Levitt, along with his good friend and fellow IGFA Hall of Fame member Donald Tyson, spearheaded efforts to build the IGFA Headquarters in Dania Beach, FL. The Michaels Organization then led the financing and development of the project. By leading the design and financing a succession of custom sport fishing boats, Levitt also helped to develop the prototype for the large sport fishing boats so widely used today.
In 2012, Michael Levitt was inducted into the Affordable Housing Hall of Fame, joining an impressive group of inspirational leaders who have been bestowed this honor for making major contributions to the advancement of affordable housing opportunities in the United States.
The Michaels Organization, which Michael founded in 1973, is the nation's number one privately held affordable housing owner and developer. The organization has since grown into a family of companies that owns, develops, and manages affordable, military, conventional multifamily and student housing. Michael and his wife, Pat Levitt, who is a world-record holding angler herself, are well-known for their philanthropy.
The Michaels Organization Educational Foundation, a nonprofit affiliated founded by Michael in 1991, has awarded more than $5.9 million in college scholarships to the residents of Michaels owned and managed communities. Michael and Pat match all private contributions to The Michaels Organization Educational Foundation two-for-one.
Two years ago, Michael and a group of anglers who were Mike's guests at a bill fish tournament hosted at the Casa Vieja Fishing Lodge in Guatemala "adopted a school," which serves the children of the fishing mates employed at the lodge. Mike got the idea to help the school after reading about its dire condition in a fishing magazine.
A newly constructed outdoor stage, brand new classroom walls, roofing, flooring and a lavatory with running water are among the changes to St. Cecilia's School in Guatemala now that the renovations funded by Mike and his fishing companions are complete. Enrollment at the school has surged — by more than 50 children — who are enjoying not only the renovated building, but also brand new school desks, books, and more.
Additionally, a scholarship program established in Michael Levitt's name by his son Dennis Levitt fully funds a week of IFGA fishing camp for several youngsters each year, which teaches young anglers and aspiring marine biologists to be good stewards of the environment.
"We are so proud of Mike and the organization that bears his name," said John J. O'Donnell, President of The Michaels Organization. "Michael has been in the forefront of every innovation in affordable housing for his entire career," O'Donnell said. "He's a man of integrity and leadership as well as a great sportsman and conservationist. The IGFA Hall of Fame is a well-deserved honor."
About The Michaels Organization: The Michaels Organization, a family of independent operating companies dedicated to excellence in affordable, mixed-income, military and student housing is a national leader in residential real estate. Serving 135,000 residents in 376 communities across 35 states, the District of Columbia, and the U.S. Virgin Islands, The Michaels Organization provides full-service capability in development, property management, finance, construction, and tax credit syndication.
Source: The Michaels Organization
Share: