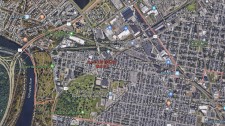 Collaboration will focus on affordable housing and economic development in upper North Philadelphia
CAMDEN, N.J., July 9, 2019 (Newswire.com) - ​​The Michaels Organization and the Allegheny West Foundation (AWF) are pleased to announce that they have formed a strategic partnership aimed at expanding affordable housing and economic development opportunities in the Allegheny West neighborhood of North Philadelphia.
A cornerstone of the Allegheny West community, AWF is a nonprofit community development corporation that has been involved in neighborhood revitalization since 1968. Michaels is the largest private sector owner of affordable housing in the country, and one of the nation's most active affordable housing developers.
Goals of the partnership include: Developing a strategy for industrial land that can be reclaimed for mixed-use, transit-oriented developments; creating and preserving affordable housing opportunities; and, supporting local business development and job creation.
"This partnership will add national strength and resources to our local expertise and deep community roots, increasing our capacity to stimulate healthy economic growth and create opportunity," said Allegheny West Foundation President Ronald Hinton, Jr. "Michaels not only brings development and financial resources, but also a deep commitment to long-term investment in the community and the people who live here," Hinton said.
The Allegheny West neighborhood, which is bounded by Ridge Avenue on the West, 17th Street on the East, Lehigh Avenue to the South, and the various railroad lines near Westmoreland Street to the North, was the longtime home of Tastykake until the snack maker relocated to Philadelphia's Navy Yard in 2009. The company's departure from the Huntington Park neighborhood left several areas of the Allegheny West community with underutilized commercial buildings and vacant sites that are ripe for redevelopment.
"Ron Hinton has a very strong vision, as well as strong community support for his economic development plans, and Michaels is proud to be able to work with AWF to transform that vision into reality," said Milt Pratt, Senior Vice President of Development at Michaels. "The partnership represents a great alignment of national strength and local expertise, as well as our shared mission of crafting solutions that jump start housing, education and neighborhood prosperity," said Pratt.
Michaels has developed, owns, and manages more than 1,700 apartment units in 22 communities in Philadelphia, but this will be its first time working in the Allegheny West neighborhood.
About The Michaels Organization: The Michaels Organization is a national leader in residential real estate offering full-service capabilities in development, property management, finance and construction. Michaels brings comprehensive solutions to communities that jump-start housing, education, civic engagement and community prosperity, and is committed to creating communities that lift lives. For more information visit, www.TMO.com; to find an apartment home visit www.MichaelsCommunities.com.
Source: The Michaels Organization
Share: