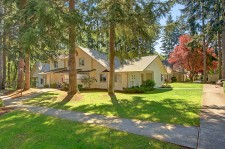 Acquisition expands Michaels' presence to Washington state for the first time.
MARLTON, N.J., May 14, 2018 (Newswire.com) - The Michaels Organization, the nation's largest, privately held owner of affordable housing, announced today that it has acquired 41 apartment communities from affordable housing developer Vitus. The deal increases Michaels' affordable housing portfolio by more than 1,500 units and expands its nationwide footprint from 35 states to 36. The acquisition, which included properties in Arizona, California and Washington state, marks the first time Michaels will own and manage affordable communities in Washington state.
"We have tremendous respect for Vitus, who like us, are developers of innovative, sustainable, high-quality affordable apartments," said John J. O'Donnell, president of The Michaels Organization. "These communities align well with our existing portfolio and with our strategic plan for growth."
These high-quality affordable apartment communities align well with our existing portfolio and with our strategic plan for growth.

John J. O'Donnell, President, The Michaels Organization
The majority of the units receive subsidy payments provided by either the U.S. Department of Housing or the U.S. Department of Agriculture, and all have been recapitalized with Low Income Housing Tax Credits.
"We appreciate that The Michaels Organization goes beyond 'sticks and bricks' to focus on creating opportunities for residents and empowering communities," said Stephen R. Whyte, Vitus' founder and managing director. "We are pleased that these communities will be in good hands for generations to come."
Whyte also said Michaels was uniquely qualified as the most suitable buyer for the portfolio, possessing both the ability to navigate the complexities of a myriad of financial, partnership and regulatory approvals, along with the capital relationships to bring to bear, ensuring successful execution of such a large, complex transaction.
Vitus will use the proceeds from the transaction to create and preserve additional affordable housing in markets across the country.
The financial closing for the acquisition was completed on May 4, 2018.
About The Michaels Organization: The Michaels Organization is a family of independent but integrated operating companies dedicated to excellence in affordable, military, student and contemporary multifamily housing. Serving more than 145,000 residents across 36 states, the District of Columbia and the U.S. Virgin Islands, The Michaels Organization is a national leader in residential real estate with full-service capabilities in development, finance, property management, asset management and construction.
About Vitus: Vitus is a developer of smart affordable housing and a catalyst for community revitalization. Vitus works with public and private sector partners to develop quality projects that strengthen neighborhoods and provide housing that families and individuals can feel proud to call home.
Source: The Michaels Organization
Share: