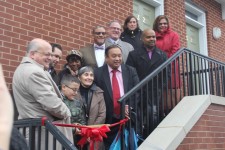 Grand Opening Marks Culmination of 15-Year Revitalization of Former Public Housing Site Lafayette Gardens
Jersey City, NJ, April 10, 2017 (Newswire.com) - ​​​​Not yet born when the neighborhood revitalization of the former Lafayette Gardens public housing site first got under way, Jersey City "Mayor for the Day" Zac Moustafa, a fourth-grader from Public School 16, cut the ribbon signifying the grand opening of Glennview Townhouses II, held April 6.
The seventh and final phase of a comprehensive, multi-phase transformation of outdated public housing, Glennview Townhouses II marks the culmination of the Lafayette Gardens HOPE VI Revitalization Plan that began more than 15 years ago.
"The transformation of blighted public housing into a thriving neighborhood offering quality housing to families and seniors of all incomes is now complete."

Gary Buechler, President, Michaels Development Company
Several Jersey City Council Members as well as officials from the state and the U.S. Department of Housing and Urban Development joined Jersey City Mayor Steven Fulop and the young student shadowing him for the day at the ceremonial grand opening.
"We are excited to see the Lafayette Gardens Neighborhood Plan completed and look forward to a thriving community," said Marvin Walton, executive director of the Jersey City Housing Authority (JCHA).
JCHA first received a $34 million federal HOPE VI grant from the U.S. Department of Housing and Urban Development (HUD) to revitalize the Lafayette Gardens/Morris Canal area in 2001. Since then, The Michaels Organization and JCHA have collaborated on 507 mixed-income residential apartments on and off the 12-acre site of the original Lafayette Gardens public housing complex. The award-winning communities serve both families and seniors, and all seven phases are at full occupancy.
"We are thankful for the opportunity to partner with the Jersey City Housing Authority, whose leadership and vision from start to finish has allowed us to accomplish our mission here in Jersey City," said Joel Silver, Senior Vice President of The Michaels Development Company, JCHA's private-sector development partner for all seven phases. "Because of the tremendous support of HUD, the state, and the city, we were able to leverage $4 private dollars for every public dollar spent here at the same time creating hundreds of jobs for local residents and generating millions in economic activity," Silver said.
Glennview II offers 64 apartment homes in an attractive mix of three- and four-story stacked townhouses and stacked flats. Each town home has its own private entrance. The units, available in one, two, three and four-bedrooms, serves residents with a diverse income mix, including: public housing residents and those with Section 8 vouchers whose rent is tied to their income; low and moderate income residents who need workforce housing at affordable rents; and tenants without income restriction who reside in market rate units. There are 16 units set aside for households who have experienced homelessness. Residents with low-incomes will pay 30 percent of the income as monthly rent and will receive extensive social services. Regardless of their income level, all residents enjoy units with identical amenities.
This phase, like all the previous phases is being managed by Michaels Development's sister company Interstate Realty Management, which will ensure that the development remains a long-term asset to the neighborhood. Other partners include Prestige Building Company, which served as the general contractor.
Financing for the $21.4 million Glennview Townhouses II development includes $3.3 million in JCHA Capital Funds as well as $6.2 million in Conduit Bonds and $4.7 million in Hurricane Sandy funds from the New Jersey Housing & Mortgage Finance Agency (NJHFMA). The NJHFMA also allocated 9% federal Low Income Housing Tax credits to Glennview II, which raised $9.5 million in private equity for the development. Riverside Capital syndicated the tax credits. Bank of America invested in the tax credits and also provided $3.7 million for the construction bridge loan. The Low-Income Housing Tax Credit brings private equity into communities and is the primary financing catalyst for virtually all affordable rental housing nationwide.
About The Michaels Organization
Michaels Development Company, Interstate Realty Management, and Prestige Building Company are independent operating companies of The Michaels Organization, a national leader in residential real estate. Serving 135,000 residents in 370 communities across 35 states, D.C., and the U.S. Virgin Islands, The Michaels Organization offers full-service capabilities in development, property and asset management, construction, finance, and tax credit syndication. www.TMO.com
Source: The Michaels Organization
Share: