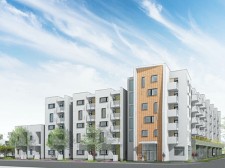 HUD Awards The Housing Authority of the City of Los Angeles $35 Million to support Watts Rising Transformation Plan
CAMDEN, N.J., May 11, 2020 (Newswire.com) - ​​​​​​​The ongoing transformation of Jordan Downs, one of the largest and most outdated public housing communities in the country, reached a new and significant milestone on April 23, when the U.S. Department of Housing and Urban Development awarded the Housing Authority of the City of Los Angeles (HACLA) a $35 million Choice Neighborhood Initiative (CNI) grant for the revitalization of the Watts community in Los Angeles.
The news comes just six weeks after HACLA's private sector partner, The Michaels Organization, announced it had achieved a financial closing on the third phase of new housing in the comprehensive development plan for Jordan Downs' revitalization.
"Watts residents have for years been dreaming of, and advocating for, this community transformation and now that transformation is becoming a reality," said Kecia Boulware, Michaels Vice President of Development. "Michaels and our partners are grateful to HUD for supporting our vision for high-quality affordable housing with this CNI award and for including $5 million for much-needed supportive services for the families of Jordan Downs."
Michaels, along with non-profit BRIDGE Housing, were selected by HACLA as the master developers for the Jordan Downs revitalization in 2015. Since then, two residential developments, the extension of Century Boulevard, and the opening of new neighborhood retail has been completed, and Michaels has begun site work on the third phase of new housing.
The CNI grant ensures progress will continue for both Jordans Downs and the wider Watts community by enabling HACLA to leverage significant additional public and private dollars to support the locally driven strategies driving the comprehensive approach to the Watts neighborhood transformation.
When fully complete, Jordan Downs will offer some 1,400 new affordable homes to existing and new residents, in a vibrant mixed-use, mixed-income urban village, with significant green space and community amenities.
The $35 million CNI grant includes $5 million that will be directed specifically for social services for Jordan Downs residents. The non-profit organization Better Tomorrows, which serves as Michaels' lead services partner, will deliver programming to the residents of Jordan Downs that focus on healthy lifestyles, strong communities, educational success, and financial stability.
"We look forward to being part of the community resources that will help magnify opportunities to enhance education, health and wellness and financial stability for the residents of Jordan Downs," said Howard Tucker, president and CEO of Better Tomorrows.
About the Michaels Organization: The Michaels Organization is a national leader in residential real estate offering full-service capabilities in development, property management, construction, and finance. Serving 145,000 residents in more than 400 communities nationwide, Michaels is committed to crafting housing solutions that jump start education, civic engagement and neighborhood prosperity and to creating Communities That Lift Lives.
Media Contact: Laura Zaner, 856-988-5983
Source: The Michaels Organization
Share: