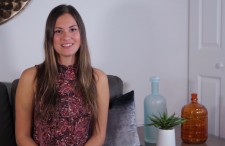 The Michaels Organization Educational Foundation awards educational grants ranging from $1,000 to $2,000 to 11 students
MARLTON, N.J., December 1, 2017 (Newswire.com) - The Michaels Organization Educational Foundation announced today that $21,000 in scholarships has been bestowed to 11 college students through its University Student Living Scholarship Program. Recipients of the awards, all of whom are residents of student housing communities owned and/or managed by University Student Living (USL), can use the educational grants toward tuition and other direct educational expenses for the 2018 Spring semester.
"Our company is committed to creating communities that lift lives," said University Student Living President Joseph Coyle. "Our scholarship program is one of the ways we are able to fulfill that mission. We are continually inspired by the character, academic achievements and aspirations of our scholars and wish them all the best as they continue their educational endeavors."
There is no better way to invest in our communities than with the gift of an education.

John J. O'Donnell, President, The Michaels Organization
All residents of USL communities enrolled in accredited colleges, universities or vocational training programs are eligible and encouraged to apply for a scholarship, and all may reapply every year of their education. Selection criteria includes academic performance, financial need, and proficiency or potential proficiency in a chosen field of study.
This year's scholarship recipients attend six different universities located near USL student housing communities: Rochester Institute of Technology, Old Dominion University, University of West Florida, University of South Florida, University of Arkansas and Boise State University. All scholarship funds are distributed directly to the schools.
University Student Living, LLC, which develops, owns, and manages on-campus and off-campus student housing nationwide, is an independent operating company of The Michaels Organization. The Michaels Organization Educational Foundation, a nonprofit affiliate, has awarded $39,000 in college scholarships to USL residents since the program began in 2016. The foundation, which has a separate program for residents of The Michaels Organization's affordable and military housing communities, was first established in 1991. Since then, the foundation has bestowed more than $6 million in scholarships to Michaels residents.
Funds for the USL scholarship program are raised exclusively from voluntary private contributions from business partners and friends throughout USL's business network.
About The Michaels Organization Educational Foundation:
The Michaels Organization Educational Foundation is a nonprofit affiliate of The Michaels Organization, a family of independent operating companies dedicated to excellence in affordable, mixed-income, military, and student housing. Serving more than 130,000 residents in 370 communities across 35 states, D.C., and the U.S. Virgin Islands, The Michaels Organization is a national leader in residential real estate with full-service capabilities in development, property and asset management, mortgage finance, construction, and tax credit syndication. The Michaels Organization Educational Foundation was the first of its kind in the affordable housing industry when The Michaels Organization's founder Michael J. Levitt established it in 1991. Michael and his wife, Patricia Levitt, match all contributions to The Michaels Organization Educational Foundation two-for-one.
Media Contact:
Dale McCullough
dmccullough@tmo.com
Cell: 484-238-4737
Source: The Michaels Organization Educational Foundation
Share: